CHAMPÚS SÓLIDOS Y ACONDICIONADORES SÓLIDOS
CHAMPÚS SÓLIDOS Y ACONDICIONADORES SÓLIDOS
Creamos champús en barra altamente efectivos a partir de ingredientes naturales para ayudarte a tener el cabello hermoso que siempre has soñado.
Creemos que tu cabello y tu piel se merecen el mejor tratamiento. Los champús en barra de Costa Blanca Organics son naturales, a base de plantas y se entregan maravillosamente para sus rituales de cuidado del cabello para lograr el cabello saludable y brillante que desea. Cero desperdicio, fácil de transportar y agradable: Hecho para apoyar su belleza y la salud de nuestro planeta. 
DERMATOLÓGICAMENTE TESTADO
INGREDIENTES NATURALES
DURADERO Y ALTAMENTE EFICAZ
SIN PLÁSTICO, CERO RESIDUOS: SU CABELLO SANO Y EL PLANETA SALUDABLE
Costa Blanca Organics se preocupa por el impacto que los cosméticos tienen en nuestro cuerpo y en nuestro planeta. Por lo tanto, nuestros productos están cuidadosamente diseñados para ser lo más naturales y orgánicos posible. Nuestro surtido se basa en plantas y se entrega deliciosamente para sus rituales de cuidado del cabello para lograr el cabello saludable y brillante que desea.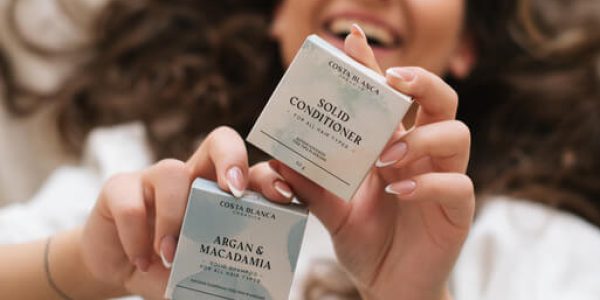 Ayudándote a lucir bien
Creemos que tu cabello y tu piel se merecen el mejor tratamiento. Los productos de Costa Blanca Organics están diseñados para proporcionar la experiencia de cuidado personal más placentera. Los aromas relajantes y la textura agradable son parte de nuestros rasgos de calidad, además de respaldar tu belleza con ingredientes orgánicos.
Somos responsables de nuestro planeta
Nuestro planeta se está ahogando en la contaminación plástica. La misión de Costa Blanca Organic es reducir el plástico en la producción de cosméticos tanto como podamos. Una barra de champú significa una botella de plástico menos: más salud para nosotros y el planeta.
Sin silicona
Libre de parabenos
Sin conservantes
Sin colorantes
Sin sulfatos
Apto para viajes
No testado en animales
Made with passion and love
Shampoo Bars and Solid Hair Conditioner
The best shampoos that I have tried ever. My hair now healthy and shiny, it also improves hair elasticity. My favorite is the green one but I am in love with all the products of Costa Blanca Organics. Thank you!
Superinis sampunas , jau trecia naudoju, geresnio nesu bandziusi . Visiems rekomenduoju.
Ordered more shampoo because been using for some time. My hair looks and feels amazing. 100% recommending to anyone.
Costa Blanca Organics is the best shampoo I have ever had. I have tried many many other products over the years, however this is the only one to clear my dandruff and make my flaking skin go away. I could not even grow a beard because my skin would be too itchy, now I have no problems at all. My skin is 100% clear, conditioned and feels much better. I would recommend their shampoo to everyone but especially anyone who has long term dandruff and dry skin. Fantastic product!
Very good , I have tried many brands but this one is my favorite at the moment. Love that it doesn't contain parabens and silicones.
Really nice product, had skin problems with the water locally. After using this product, no problems anymore! Really good for eczema!
I used a product for dandruff.The only tool that helped.I highly recommend it, which consists of all natural ingredients.Thank you for the quality product.
Great shampoo for travelling when you don't want to carry around big bottles of shampoo around. The shampoo lasts very long for its compact size. Makes your hair super soft an feels good! It smells good as well. Good quality product without any harmful ingredients. Would definitely recommend 10/10!
Heard about these products( mens shampoo with zinc) from friend with great rewiew and decided to try for myself. Absolutely fantastic product. Highly recomended.
Labai tinka mano garbanotiems plaukams . Pirma karta isbandziau kietaji sampuna, tai tikrai wow.
Thanks for incredible products, after the first wash I start to love my hair again. I wish you good luck in creating amazing products.
Perfect for my hair .Love natural ingredients. Hair feels healthy and soft.
Labai patinka , jau antra menesi naudoju , dydis nelabai ir pasikeites . Rekomenduoju , nes plaukai tikrai sustiprejo ir ne taip slenka.
Patiko. Plaukai labiau žvilga ir ne taip veliasi, be to galiu išvaikščioti 3 dienas neplovusi , seniau tik 2 dienas išvaikščiodavau . Žodžiu labai laiminga.
Esu bandžiusi keleta kietųjų šampūnų, bet nuo visų mano galvos oda labai išsausėdavo ir pradėdavo niežtėti . Šis šampūnas tikrai mano mėgstamiausias, nedžiovina odos, o plaukai labai minkšti pasidarė. Ačiū už nuostabų šampūną ir labai laukiu kondicionieriaus.
Sign up for our newsletter to receive special offers discover new products and much more.